Lowest Priced Used Auto Parts In Central FL!
We offer up to 90% off of used car parts, engines & transmissions for all years, makes and models. Call 407-287-5100 fore more info.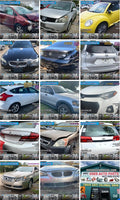 Tons of RARE Used Vehicles in Stock Now!
We have an overstock of used auto parts for BMW, Honda, Lexus, Mercedes, Toyota, Nissan, Ford Chevy & more.
Location
ABC Auto Parts
18609 E. Colonial Dr.
Orlando, FL 32820
Phone: 407-287-5100
Mon - Fri, 8:30am - 5:30 pm
Saturday, 8:30am - 5:30 pm
Sunday, 9am - 3pm
Testimonials
Friendly staff, mechanics helped me out by loaning out their tool greatly appreciated, thank you abc will be back!

Orpheus Fautner
Abc has beautiful selection of nissan parts even for 2019! Help me alot save me thousands from dealer :)

Doxon Frantz
Great customer service, my tire blew out in front of their building and they were able to find my tire size and install it to get me on my way. Manager even gave me a student discount Thank you abc.

Alex Wingate
Staff was very friendly and knowledgeable. Lots of variety in good condition. Is better than the other local spots.

David Morefield
Honestly this place was great. Not necessarily because of the junk yard and finding your parts, but because of the customer service. Everyone there was extremely helpful. They want to help you and want you to find the part you need. I needed an alternator and found it within 5 mins of being there thanks to the staff. The alternator did not work but the said it was ok to return it and swap it out for another one. Great place. Definitely recommend this place to others.

Peter Rios